Kenny Wilson – Lead Guitar, Vocals

Kenny Wilson is the founder of The Urban Bushmen band. Kenny was born in California but was raised in Arkansas from the age of 2 by his grand parents. His early childhood musical influences were the Gospel artist such as Mahalia Jackson, he often heard coming from the little A.M. radio station his grandparents listened to.He also attended a small, southern Baptist church that featured some of the most down-home gospel singers in the area. Even before he was a teen, Kenny begin socializing with his much older uncles and cousins. They would bring him along to all the Juke Joints that were,"UPTOWN".Thats where he would hear artist like Bobby "Blue" Bland, Lightnin Hopkins, Albert Collins, B.B. King, and many others. Kenny spent most of his teenage years living from one place to another after his grandparents past away. This was the beginning of a life long journey of his to touch all he could with the blues of Arkansas. He and his younger sibling would play at any club that would allow teenagers to perform. Many were shocked by the sounds that screamed from their electric guitars. They were often compared to a young Buddy Guy or Jimi Hendrix. In the early 90's, Kenny moved to the Bay Area, Ca. This is where he met many musicians that helped shape and refine his guitar playing.He spent many years with sax player Big Daddy, John Lee Hookers band,Ron Perry (bass player from Susan Tedeschi)and countless jam sessions with many of the Top Blues artist in the Bay Area. Soon after, he and his brother formed "URBANBUSHMEN", a hardcore blues and R&B band with a touch of Hip-Hop and Nubian Soul. Urbanbushmen are by far the most versitle group many have ever seen live. This is all a reflection of a musician like Kenny, traveling all across the country, Absorbing all styles and cultures from everyone he came in contact with. Keeping the blues alive and giving America a very important insight into the life of black culture. Kenny is also dad to singing sensation Gabi Wilson.
Odys Burns – Lead Guitar, Vocals

Otis plays a funky Memphis boiling style of guitar with lots of flair. He's played with many San Francisco Bay Area musicians and is respected in the music community.
Christian Houston – Keyboards, Vocals

Christian Houston AKA Chris 10 is a classically trained musician who has branched out into R&B, Jazz, Adult Contemporary, and Neo Soul. As a keyboardist Chris 10 has performed as a band member for top Bay Area talents: opening for such acts as the S.O.S. Band and Roy Ayers respectively. Other live performances include sit-ins with Xecutive Suite, The Together Band, Mixed Company, Capitol Records group Cold Fire, Felton Pilate of ConFunkShun and jazz guitarist Tony Dewayne. Throughout the years Chris 10 has collaborated with top bay area producers such as; Rico Barretta (Flyte Studios), Jimmy Weaver (Vault Productions) Gary Macky (Rowdy Records),Tony (Diamond) Dewayne; and currently with Earl Thomas (Hymm & Heart). Thus, these collaborations have helped in developing Chris 10's own style of composing and producing music (Millennium Productions).When away from the studio and into the "live" scene, Christian (Chris10) is currently committed to performing with the Bay Area group the Urban Bushmen: a band founded by Bay Area Blues guitarist Kenny Wilson.
Karl Bracy – Lead Vocals

Lead vocalist from Vallejo California. Karl has performed in Reno / Vegas. He has also toured in Japan. His tribute shows include those honoring Earth Wind and Fire, The Temptations, and the Stylistics. With thirty years plus experience as a lead vocalist, he will capture your heart with his performance.
Alton McGriff – Bass Guitar, Vocals

Alton Began playing the alto saxophone in the 8th grade, when he was named "Who's who in America" in 1980 for his musical accomplishments. Alton began his musical career by sneaking his brother's bass when his brother wasn't home. When his brother found out his desire to play, he gave Alton his first love, the bass guitar. Since then, Alton has branched out into many areas of music, and has developed an interest in piano and drums. He has performed in inner city youth programs and has sang with gospel and accapela groups. Alton has toured with bands throughout Northern California. When not playing his funky bottom, he works with Contra Costa Counties troubled teens. He is able to bring his musical talents into a classroom environment by teaching various techniques on his Musicman bass guitar.
Greg McGriff – Drummer, Vocals

Greg McGriff is a San Francisco Bay Area performing drummer who's been playing professionally for over 30 years. Greg's early influences are his high school band teacher Frank Bigoski (1974 – Hogan High School), who gets the credit for his discipline and drum work ethic. He studied African drumming under professor Augustus Olatunji Vidal master drummer at Sonoma State College, where he attended in the mid 70's. His funky style has backed the likes of Rosie Gaines (Prince protégée) with the Freeryde Band of the 70's and 80's. He has done many engagements with Bay Area variety acts such as The Floordogs, Cover2Cover, and the Midnight Band (Motown Review featuring Matt Applin and Danny "Sweet Man" Thomas formerly of Confunkshun) on the Vallejo based California Wine Ship in the 90's.

Through the years he has done sessions with Ron Perry (bassist currently with blues player Susan Tedeschi), Tony Dewayne (song writer/musician), Rob Watson (bassist for bluesman Joe Louis Walker), Bobby Simmons and various other Bay Area musicians.

He also gives his beginning credit to the Chuck Brown drum method and his funky flavor from one of his favorites, Dave Garibaldi (Tower of Power) who also studied that style. Other influences include James Levi a personal friend and mentor. It is Greg's passion for drumming and his 'pocket style' that allows him to enjoy and play all styles of music including funk, blues, rock and jazz.
Brian 'Lakeside' Lake – Percussion, Vocals

A seasoned percussionist with many years experience, 'Lakeside' played various instruments as a youngster before settling on the congas. "I loved music from my youth. Music of the sixties set the foundation of the type of music that inspired me". He gives props to his teachers Robert Moore, Florence Bruon and Mildred Walsh. Other entertainment work includes acting, dancing and even Harlem Globetrotter. His influences include Tito Puente, Poncho Sanchez and Giovanni Hidalgo. His playing style has a Afro/Latin feel and his riffs add that soulful flavor to the band. With Brian's shaking, rattling and smooth vocals, he has established himself as a cog for the Bushmen.
Jimmie Weaver – Saxophone, Vocals

From Oklahoma City Okla. Jimmie has over 25 years in the music industry! As a Musician, Producer, and Engineer. He has toured with groups such as Earth Wind & Fire, Commodores, Ashford and Simpson, George Clinton and Parliament, Barkays and the O'jays, just to name a few. He has also done recording sessions with artists E-40 and Tupac. While living in Tokyo, Japan he toured extensively with major Japanese Artists throughout the Far East, and put together a group that was signed with RCA Japan thus has over 10 years experience working in the music industry in Japan. Knowledge was gained on the International side of the business. As a Producer, he worked with Master-P and was awarded a Gold Plaque for his work on the sound track Bout-a-Bout it.
Cecil Kirkpatrick – Trumpet, Background Vocals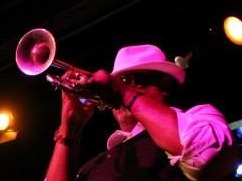 Main instrument is trumpet. Also plays harmonica, steel drums, and talk box. Started playing R&B on the "Chitlin Circuit" in Texas. Through the years Cecil has played with several prominent musical groups from coast to coast. Founder of The Bay Area group "Living The Dream". Cecil has recorded and performed on numerous occasions with Danny Thomas (founding member of Confunkshun) and Johnny Brown (former music director for Al Green)
Mike Brooks – Trombone, Background Vocals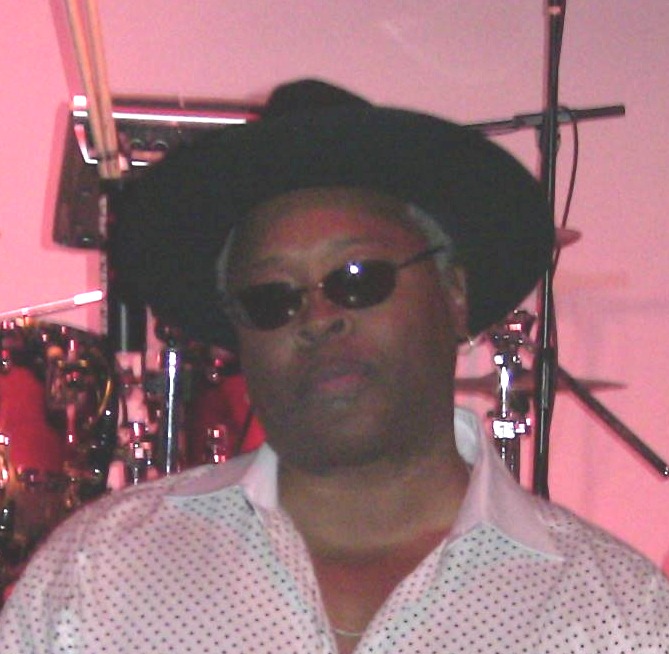 Michael B$ has 25 and change years experience playing multiple Brass Instruments, His bottom Ax being Trombone. Starting in High school and moving to stage Band soon after. He has shared the Stage with such Talent as Cold Fire Band, Mixed Company w/ Eddie M, John Paris, Kenny Franklin, & David Council, Force One Network /w ChopMaster J and David Hollister, Jesse Johnson , also Joined many artist in recording Studios. Influenced by Funk ,Latin and RB, such as James Brown, Fred & Maceo, George, Bootsy and PFunk, EWF, Poncho Sanchez and Escovedo family, Mike strongly feels that "Funk is its own Reward".